Of Curses and Kisses by Sandhya Menon
My rating: 2 of 5 stars
Thank you, Simon & Schuster, for giving me an ARC of this book in exchange for an honest review.
She couldn't make this boy fall in love with her. She couldn't break his heart. Because if she did, it was her, not him, who was the beast.
I'm frustrated that my second review of 2020 will be a rant. I requested this book from the publisher because I hadn't read a contemporary retelling of Beauty and the Beast. The boarding school setup was also appealing, so I had high expectations. Sadly, my interest dwindled at the end of each chapter to the point that I wanted to give up. Still, I persevered because I didn't have the nerve to DNF an ARC. xD
Of Curses and Kisses is about Princess Jaya Rao, an heiress to an Indian dynasty. When their nemesis, the British Emerson clan, create a scandal to ruin their family. Jaya and her baby sister named Isha seek refuge at St. Rosetta's Academy. There, Jaya resolves to exact revenge on Lord Grey Emerson, who strangely believes that he's cursed to die on his 18th birthday. However, when she learns about his struggles and starts to feel seen in return, her determination vanishes. Will Jaya and Grey finally end the conflict between their families? Heck no!
For me, this novel has too many cliches. For instance, why does the younger sister always have to be the flirty one? I've seen this trope in popular titles such as Caraval and Wintersong. Second is the male lead who hates his dad. Oh, and let's not forget the rich girl who bullies others just to hide her soft heart! I've lost count of how many times I've encountered these formulas. Tropes aren't necessarily bad, but they do become harder to tolerate when you use several of them in one book.
Besides that, I couldn't handle the cheesy conversations between the protagonists. Yes, the romance wasn't too quick to be believable, but some of the lines made my stomach churn. Here's an exchange that scarred me for eternity:
"Two weeks ago, you were kissing me, Jaya. And from what I could tell, you were really into it."

"She flushed and cupped her neck with a small hand, looking away.

"Well, weren't you?" he pressed when she didn't respond.

"Yes," she said quietly. "Yes, I was."
Grey's cocky way of confronting Jaya turned me off. It didn't help that the author often used adjectives like "feral" and "lupine" to describe his looks and personality. It was as if Sandhya Menon wanted to force the beast metaphor even though Grey's so-called "curse" had already made it obvious.
Finally, the twist at the end wasn't surprising. Figuring out the real villain required minimal effort. And when Jaya caught them, they gave up so quickly, resulting in a very convenient conclusion. A heartfelt kiss and a series of video calls solved every problem and assured me of a happily ever after. But I was anything but happy.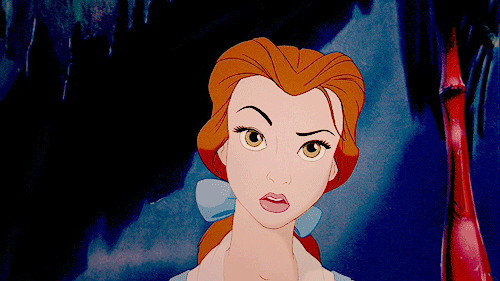 I want to end this rant on a positive note. Of Curses and Kisses doesn't merit 1 star. Regardless of my displeasure, I think that other readers will find the story delightful, especially those who love hate-to-love romance. Perhaps I'm just jaded because I've read much better retellings of the beloved fairy tale. :3