Sorcery of Thorns by Margaret Rogerson
My rating: 4 of 5 stars
Ink and parchment flowed through her veins. The magic of the Great Libraries lived in her very bones. They were a part of her, and she a part of them.
Margaret Rogerson is slowly becoming one of my favorite authors. While An Enchantment of Ravens is like ACOTAR done right, this sophomore novel is a love letter to bookworms, with a hint of Howl's Moving Castle and perhaps Strange the Dreamer. But even without the comparisons, the story is remarkable.
Sorcery of Thorns features a bizarre world where books are sentient creatures who can transform into monsters (Malefics) when enraged. Elizabeth, the main character, is a foundling who grew up in one of Austermeer's Great Libraries. She dreams of becoming a warden, a swordswoman responsible for protecting the magical grimoires. One evening, a Malefic kills someone dear to Elizabeth, and she suddenly becomes a suspect. And to find the real culprit, she collaborates with Sebastian Thorn, a sorcerer whose family practiced the infamous art of necromancy. Eventually, their search for the truth changes their view of the world—and each other.
I adored the setting of this book. It was inevitable because how could I dislike a world that respected and personified literature? Also, the concept of talking and moving texts reminded me of The Monster Book of Monsters in the Harry Potter universe. Each Great Library had a restricted section, which housed rows upon rows of snoring, growling, and moping tomes. Books with high Malefic potential were thrown into vaults and chained like a bunch of criminals. And like human prisoners on TV, the books became jealous of those who had "visitors." It was entertaining to see that the books had their very own community.
Elizabeth was an endearing protagonist from the very beginning. She had a talent for exterminating book lice and communicated well with the books around her. She also didn't have many friends, but her best friend was more than enough. Elizabeth's strongest virtues were her bravery, compassion, and intelligence. Moreover, regardless of her significant losses, she didn't preoccupy herself with thoughts of revenge. You can't say that about many YA characters today.
On the other hand, Sebastian was more or less your typical YA leading man: handsome, sarcastic, and with a dark past because of his father. And in line with the book's cover, his favorite color was green. He always wore green clothes, and even his magic manifested in green flames, lightning, etc.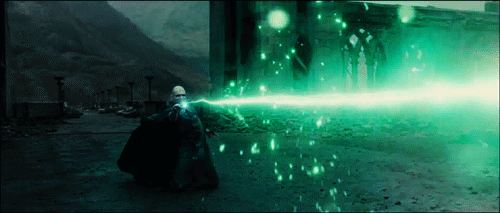 However, it was hard to be indifferent to his character growth because of his contract with his servant/familiar named Silas. To summon Silas, Sebastian had to sacrifice 20 years of his life when he was already sickly. Sebastian's forefathers had also hired Silas, and most (if not all) of them died prematurely. Given his very uncertain future, I understood why he preferred to distance himself from Elizabeth. Why start a relationship when it might end badly so quickly?
Somehow, this book is a retelling of Beauty and the Beast. Elizabeth was determined to see the good in Silas even though he insisted that he was a monster. I wanted to give him the benefit of the doubt, but it was easier to see him as a genuinely selfish character. After all, was enslaving humans and feeding on their life essence signs of kindness? The resolution proved otherwise, though. Hahaha. It seems hunger can bring out the worst in everyone.
All in all, Sorcery of Thorns was delightful but a bit predictable. Austermeer made me feel at home, and it would be worthwhile to revisit it someday. Congrats to the author for another job well done!