You know what? I was a bit sad that I had to follow a path that had already been decided for me. But that just changed. — Eun Dan-o
Have you ever felt excited about a K-drama that featured a member of your favorite K-pop group? SF9 became one of my top groups this year, so I was happy that Rowoon was the male lead in Extraordinary You. Others had the opposite experience; they started supporting SF9 because of their love for the drama. Initially, I could relate to their fascination. However, the show's ending left a very sour taste in my mouth. Not even Rowoon (or April's Na-eun) could cloud my judgment.
Extraordinary You's plot might seem unique. Still, it's similar to a YA novel entitled Between the Lines in that it also features "self-aware" fictional characters who don't want to be controlled by the author. Eun Dan-o (Kim Hye-yoon), the female lead, is an extra in Secret, a romance manhwa (comic book). When Dan-o learns that the author plans to remove her from the story soon, she determines to change her fate with the help of Haru, another secondary character. For some reason, Haru is the only one who can change the course of the narrative, albeit with some ominous consequences. Together, Dan-o and Haru challenge the author's authority and gradually fall in love.
If you hated Kim Hye-yoon in Sky Castle, you might love her in Extraordinary You. Her character was still part of the upper class, but she was no longer an annoying spoiled brat. Eun Dan-o was usually a delightful character. She always looked at the glass half-full, mainly when it came to her terminal heart disease. Instead of wallowing and waiting for the Grim Reaper, Dan-o sought solutions to her problems. Her resolve only faltered whenever Haru would pay the price for her actions. Sadly, Haru was selfless to a fault.
At SF9's concert a few weeks ago, my noisy seatmates kept on shouting "Haruya" to the point that my ears ached. They were so into Rowoon's fictional persona, but I wondered if they were genuine fans of his music. Personally, I wasn't head over heels for Haru. At first, I was annoyed because I couldn't see his face nor hear his voice for four straight episodes. The delayed gratification tactic didn't work for me. However, as his character developed, so did my interest. Haru was consistently kind, caring, and open about his feelings. Still, I wasn't that awed since I had already encountered vulnerable boys in other YA stories. Oh well, at least he wasn't a typical depiction of toxic masculinity, unlike Baek Kyung (Lee Jae-wook).
Yeo Joo-da (April's Na-eun) was my favorite protagonist. Her character arc was like a retelling of Cinderella. The author of Secret made Yeo Joo-da a constant victim of bullying and discrimination. She had inadvertently won the affections of Oh Nam-joo (Kim Young-dae), the most popular boy in school. Thus, many petty girls were jealous of her and did their best to make her life miserable. But contrary to her intended characterization, Yeo Joo-da was an empowered female. I enjoyed most of her scenes "outside the narrative" because they gave the drama more depth. I just wish that she ended up with Lee Do-hwa (Jung Gun-joo). #SunkenShip
I'm sure that I wasn't the only one who hated the A3 concept. It was obviously an ode to Meteor Garden's F4. Three childhood friends dominating their school's social hierarchy with their wealth and looks? Give me a break, please. I couldn't help but cringe when Oh Nam-joo referred to Baek Kyung and Lee Do-hwa as "his boys." Moreover, why did they always walk as a group of proud models? I now have a new corny trope to watch out for. #Ew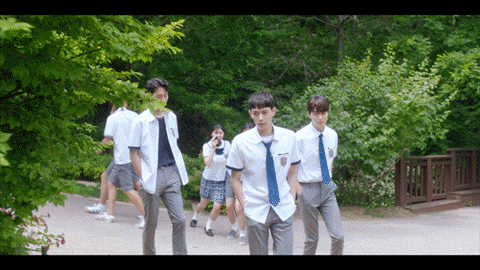 Speaking of cliches, I loathed the drama's reliance on temporary memory loss. It happened at least three times! Amnesia was more or less the consequence of defying the author too much. The first time it happened, I took a break and watched a different program. Continuing it was a leap of faith; I still looked forward to more character development. But the trope happened two more times, tarnishing my opinion of the K-drama forever. The premise of living in a manhwa world was already great, so why did the scriptwriters ruin it with stupid amnesia? They wasted a lot of screen time on memory recovery.
I gave Extraordinary You 2.5 stars because it was exceptionally disappointing. If you want to watch it as a fan of SF9 (or April), I hope that it won't affect your enjoyment of their music. Regardless of my fondness for the actors, I'd rather not remember this K-drama every time I listen to their songs. Rowoon trumps Haru every time. If you find the show delightful, I'm happy for you. xD